Ex-boxer Shaun Cummins 'died before being cut up'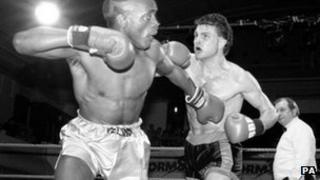 A pathologist giving evidence in the trial of a former boxer whose body was found dismembered said he "could not determine" a cause of death.
The body of ex-WBA light-middleweight champion Shaun Cummins was found in 10 pieces in freezers at his home in Marriott Road, Leicester, in September.
Prof Peter Vanezis said Mr Cummins had suffered from several illnesses and had died days before he was cut up.
Thomas Dunkley, 29, denies murder but admits preventing a body being buried.
'Pneumonia and infections'
Mr Cummins, who was known as "The Guvnor", had retired from boxing in 1995 and was paralysed by a motorbike accident in 2004, which left him requiring home care.
Leicester Crown Court heard how Mr Cummins, 45, had been suffering from pneumonia and bladder and kidney infections when he died.
Prof Vanezis said the boxer had died four days before his body - which was already decomposing - was dismembered.
When asked by David Mason QC, defending, whether the illnesses could have been fatal, Prof Vanezis replied: "It is certainly a consideration.
"You also see someone with this amount of natural diseases recover. It might have killed him, it might not have killed him."
'Foul play' possible
Prof Vanezis told the jury Mr Cummins could have been suffocated with a pillow, which would not have left marks on the body.
"There is no evidence of any injuries but I can't rule out foul play," he said.
The court previously heard that Dunkley, who was Mr Cummins' "informal carer", used the boxer's credit cards to buy a chainsaw, gloves, a mask, overalls and goggles before he "set about the grisly task of dismembering the body".
Dunkley claims Mr Cummins died of natural causes but has admitted four charges of fraud relating to using his credit cards, as well as cashing cheques from a trust fund.
The trial continues.