Harborough's Market Hall in line for £400,000 revamp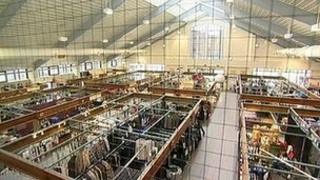 A Leicestershire town's indoor market is to get a major facelift, after plans to close it were dropped.
Harborough District Council had been considering moving traders from the Market Harborough Market Hall and leasing it to a major retail chain.
But after strong opposition from stallholders and some residents, the idea was shelved.
Now a £410,000 project to create a food hall, modernise toilets and remodel the layout is due to begin in 2014.
The council is also planning to open the building for seven days a week, rather than the current three.
It is currently talking to traders about temporary relocation of the 72 stalls while work takes place.