Richard III's reconstructed head to go on tour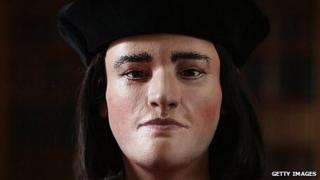 A reconstructed head based on the skull of Richard III is to go on a tour before becoming part of an exhibition in Leicester.
Richard was killed at the battle of Bosworth in 1485 but his grave was only rediscovered last August.
Experts used the skull to build a model of how he may have looked in life.
It will go on display in Leicester, Bosworth, York , Northampton and the British Museum before returning to a permanent museum due to open in 2014.
A team from the University of Leicester found the grave beneath a council car park but the identity was only confirmed in February.
Experts at Dundee University used CT scans and photographs of the skull, combined with a specialist computer programme, to reconstruct Richard's face.
The digital image was then turned into a physical model, complete with hair and eyes.
Leicester City Council has set up a temporary exhibition about the project in the Guildhall but intends to open a permanent museum in a former school in time for the re-interment of the skeleton, in May 2014.
City mayor Peter Soulsby said: "Richard's story is a fascinating part of the city's history, and this replica head further helps bring that story to life.
"It is fantastic piece of work, bringing together the latest technology and forensic evidence to recreate King Richard's appearance.
"I am delighted that will be on display in Leicester. The temporary exhibition at the Guildhall has already proved enormously popular, and the addition of the head will no doubt attract many more visitors."
The original excavation that uncovered the grave is due to be extended in the summer to uncover more the church where Richard was buried.
A legal challenge to plans to re-inter the remains in Leicester cathedral is expected to be formally submitted next week.