House building near Richard III camp in Barwell approved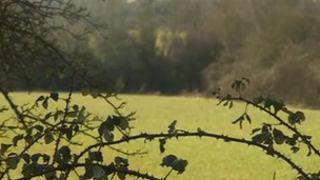 Campaigners have been protesting against plans to build 2,500 homes in Leicestershire, near the site of Richard III's battle camp.
The villagers from Barwell said the plans could "destroy" their community.
They protested outside Hinckley and Bosworth Borough Council offices while councillors approved the project.
The planning committee said the development would not impact on the nearby Registered Battlefield at Bosworth, where Richard III fought.
Councillors, who were at a meeting called specifically to discuss the project, granted outline planning permission for the homes.
The development, to be built on green fields between the villages of Barwell and Stapleton, would double Barwell's population.
The council said: "The development will provide new homes and jobs for local people and help regenerate Barwell and the rest of the borough."
'A ghost town'
The development, which includes plans for an employment zone, a school, a medical centre, shops, sports pitches and children's play areas, as well as housing, has proved highly controversial within Barwell.
Residents have organised a march against the development and in a parish poll among villagers 96% voted against it - although less than a quarter of the population took part in the ballot.
The council also received more than 700 objections to the housing, with protestors claiming it would lead to increased traffic and destroy the character of the village, making the current centre a "ghost town".
Protestor Huw Williams said: "It's been built on green fields and there are a number of brownfield sites in Barwell that I think should be developed first."
However, councillors said the plans would create opportunities for people in the area.
Gary Halman from How Planning, the consortium that represents the developers, said: "It will make Barwell a much more attractive place to shop and spend leisure time."