Michelle Mills 'lost control' when she killed Edward Miller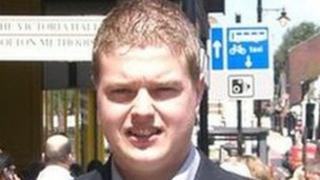 A woman stabbed her boyfriend to death when trauma from childhood sexual abuse made her lose control, a trial heard.
Michelle Mills had been stripped naked and pushed outside by boyfriend Edward Miller five days before she stabbed him 24 times, Lincoln Crown Court heard.
Clinical psychologist Dr Carolyn McNally said this, and other violence from Mr Miller, could have triggered a "dissociative episode".
Ms Mills, 31, of Scalford, Leicestershire, denies murder.
'Alien abduction'
She accepts stabbing the 20-year-old in the early hours of 6 November but said she could not fully remember what happened.
She told Dr McNally she had previously experienced being taken by aliens, the court heard.
Jurors were told she also recalled finding herself at railway tracks and a DIY store with no recollection of how she got there, following previous "altercations" with Mr Miller.
She told Dr McNally she had been sexually abused between the ages of three and seven.
Explaining the theory of dissociation, Dr McNally told the court: "If a child can't physically remove itself then mentally it will dissociate given certain circumstances.
"It becomes a coping mechanism when you perceive a high level of threat."
'Strangled with top'
The court heard that Ms Mills told Dr NcNally the violence inflicted on her by Mr Miller was "getting worse" and was happening three or four times each week.
She told the psychologist he stripped her naked, strangled her with her own top and then pushed her outside, the jury heard.
"She said it reminded her of [the abuse] when she was little when I asked how it felt to be put outside naked," said Dr McNally, a witness for the defence.
On 5 November the couple went to a firework display at the pub where Ms Mills worked, then went home.
She told Dr McNally they had both been drinking alcohol and argued after Ms Mills found cannabis which belonged to her boyfriend.
She said Mr Miller grabbed her by the throat, head-butted her and punched her.
Ms Mills went into the kitchen but said she did not remember picking up the knife, Dr McNally said.
Remembers holding knife
The psychologist told the court: "She said that as she re-entered the living room Mr Miller came towards her 'so I stuck it in his chest'.
"The next thing she remembered she was holding the knife up above her head."
The jury was told Ms Mills also accepted stabbing Mr Miller in the stomach, but could not remember stabbing him a further 22 times.
Giving her view of the incident, Dr McNally said: "The level of fear induced caused her to experience a dissociative episode."
A psychologist for the prosecution diagnosed Ms Mills as having borderline personality disorder, and Dr McNally agreed.
But the prosecution disputed that Ms Mills had a dissociative episode when she stabbed her boyfriend.
The trial continues.