LGBT museum could be tourist attraction, say campaigners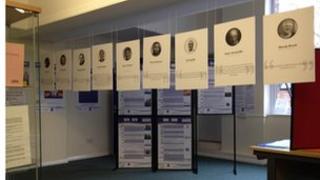 The people behind a lesbian, gay, bisexual and transgender (LGBT) exhibition in Leicester have said they hope it can become a permanent museum.
Volunteers who run the LGBT Centre on Wellington Street said their exhibition on the history of gay equality has proved so popular they believe it could develop into a museum.
The free exhibition has attracted more than 1,000 visitors in three months.
LGBT rights activist Bernard Greaves said a museum would attract tourists.
'No better place'
"It adds to the tourist attraction of Leicester. It will bring people in to complement what's already here, such as the new museum for Richard III," he said.
"Leicester is a city renowned for its diversity and its good community relations. There could be no better place to celebrate the contributions to society of LGBT people."
Paul Fitzgerald, the equality inclusion lead at the LGBT Centre, said the museum could strengthen Leicester's bid to be 2017 UK City of Culture.
"What the museum would do is raise the profile of the LGBT community," he said.
'Exciting suggestion'
The exhibition, named Untold Stories, was launched with £50,000 of Heritage Lottery funding and opened in January.
It looks at the history of the LGBT community in Leicestershire and Rutland over the past 70 years.
Since its launch, volunteers have continued to collect material for the exhibition from the local community.
They are now looking for a building to house the exhibition permanently.
Mayor of Leicester Sir Peter Soulsby said: "It's one of a number of very exciting suggestions that have come forward recently. Telling the story of the LGBT communities is an important part of modern Leicester."