Richard III exhibition in Leicester has 50,000 visitors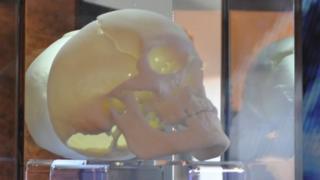 The number of visitors to the Richard III exhibition in Leicester has reached 50,000.
The temporary display in the Guildhall is about the story of the search for the king, who was found buried beneath a city car park.
Leicester Museums Service said its popularity was fantastic for the city.
The skeletal remains were confirmed as belonging to the last Plantagenet king by a team at the University of Leicester, in February.
Richard III was killed at the battle of Bosworth in 1485 and was buried in the church of the Greyfriars, which was subsequently lost during redevelopment.
Nisha Poppat, of Leicester Museum Service, said the response to the exhibition had been amazing.
She said: "I think it's because it tells the story of the find, the [science] and archaeology behind it, and I think people are really fascinated that it's happened in Leicester."
Charlie Elwell, 13, from Walsall, became the 50,000th visitor when she stepped through the doors of the Guildhall with her mother Susan and 95-year-old friend Albert Richards.
The museum said more than 3,500 people from all over the world have left comments in the exhibition's visitor's book.
The display includes a model of Richard's skull, on loan from Loughborough University, made from the CT scan of the skeleton made at Leicester Royal Infirmary.
In March, Leicester Cathedral said it saw a 20-fold increase in visitors since the remains of Richard III were found.
The building usually gets between 40 and 50 visitors a day but that increased to between 500 and 1,000, a cathedral spokesman said.
The former king's remains are due to be reinterred in the cathedral in May 2014 under a specially designed memorial.