Twycross Zoo: Sex of western lowland gorilla revealed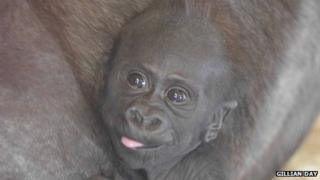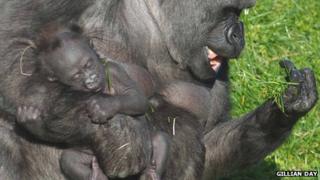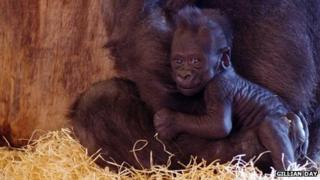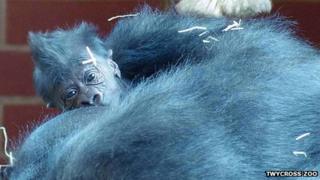 A Leicestershire zoo has revealed that a baby western lowland gorilla born at its park in January is male.
The baby, which has not yet been named, was born to parents Ozala and Oumbi at Twycross Zoo.
Charlotte Macdonald, curator of living collections, said she was only able to see the ape's gender when its mother became more relaxed.
The western lowland gorilla species is critically endangered according to conservationists.
'Stable environment'
Ms Macdonald said: "Ozala [the mother] was so protective of her newborn infant that she held it very close and it is only now that the infant is bigger, and Ozala has become more relaxed, that we have been able to see closely enough to determine the gender."
She added: "The baby is a very important addition to the family and mum is confident and content enough to let dad, Oumbie, get a close look at the baby.
"He is very interested in his new son and in the future will play a very important role in helping him to develop."
Ozala was born at Twycross in 1994 and alongside her son, and mother Biddi, represents three generations of gorilla.
"This will provide a stable environment for the young male to thrive," said Ms MacDonald.
According to the International Union for Conservation of Nature (IUCN) there are fewer than 100,000 of the critically endangered animals left in the wild.
Sharon Redrobe, from the zoo, said the infant represented a vital contribution to the conservation of the species.
A competition to name the baby has begun on the zoo's Facebook site.