Glenfield Hospital: Campaigners remain hopeful after ruling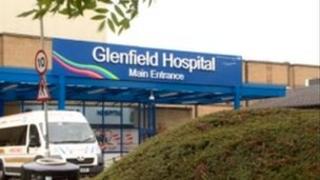 Campaigners hoping to save children's heart surgery in Leicester remain cautiously optimistic after a High Court ruling.
The Glenfield Hospital unit is one of three facing closure but a High Court judge said the consultation was flawed.
Giles Peak, consultant surgeon at Glenfield, said he was pleased with the decision but that it was too soon to say what it would mean.
The team behind the review said the ruling was disappointing.
'Very hopeful'
The action was brought by campaigners hoping to save a unit at Leeds General Infirmary but the result could have an impact on the other two affected hospitals, Glenfield in Leicester and London's Royal Brompton.
It followed a review by the Joint Committee of Primary Care Trusts (JCPCT) of 10 units in England and Wales which made the recommendation to close three centres.
The High Court ruled on Tuesday the consultation was flawed.
Mr Peak said: "Clearly it's a good thing that the concerns about the safe and sustainable review have been raise and acknowledged by the high court but it is still really too early to say what the implications of this are.
"We are obviously very hopeful that it will mean we can go on doing the great job that we do, looking after the children of the region and indeed the whole country."
'Really pleasant'
Adam Tansey's young son Albert had life-saving surgery at the unit.
He said: "What's really pleasant to see is that finally people are starting to listen to people who matter.
"A judge said part of this process was unlawful - it's what we've always been suspicious of."
But he raised fears that it could start a turf war between the different units in a bid to stay open.
Sir Neil McKay, chairman of the JCPCT, said he was disappointed at the ruling.
In a statement he said: "The pressing need to reform children's heart services is long overdue and experts have cautioned that further delay in achieving the necessary change would be a major setback in improving outcomes for children with heart disease."