Kaby Engineers: Amputated finger company fined £10,000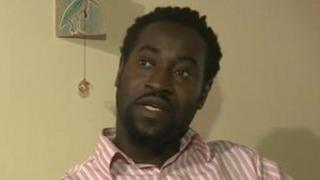 An engineering company in Leicester has been fined £10,000 and ordered to pay more than £5,000 in costs, after an employee's finger had to be amputated when it was crushed in machinery.
Benjamin Asare, 36, from Oadby, was using equipment at Kaby Engineers Limited (KEL) when part of it came down on his right hand, magistrates heard.
The court was told Mr Asare was given inadequate training and supervision.
He has not been able to return to work due to problems related to his injury.
Leicester Magistrates' Court was told Mr Asare lost his finger on his first morning using the machine in February last year.
Speaking after the hearing, Mr Asare said: "I don't even know how to describe (the pain). It was agony. I screamed like never before. I just didn't know what to do.
"The team leader had to cover (my hand), so I didn't see it and collapse."
KEL pleaded guilty to breaching Section 2(1) of the Health and Safety at Work etc Act 1974.
A Health and Safety Executive (HSE) investigation found that the ram of the machine was running significantly faster than it should.
The court heard it was an issue the company had identified when it bought the machine, but it had failed to rectify it.