Wheathill Farms fined over Leicestershire tractor accident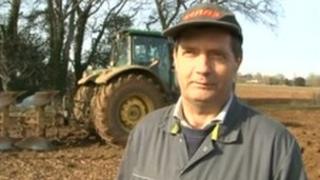 A Lincolnshire farming company has been fined after an employee suffered life-threatening injuries when he was run over by a poorly-maintained tractor.
Nigel Mould, 51, from Little Dalby, Leicestershire, was working at a farm near his home when the accident happened in August 2011.
At Leicester Magistrates' Court, the Health and Safety Executive (HSE) said the tractor had a faulty starter motor.
Wheathill Farms pleaded guilty to breaching work safety regulations.
The court heard Mr Mould had been standing outside the tractor cab to start the motor with a screwdriver when it began moving forward and ran him over.
The tractor then carried on across the yard until another worker pulled an emergency brake on the vehicle.
Crush injuries
Mr Mould suffered a punctured a lung, severe crush injuries to his pelvis, three fractured ribs and a broken ankle and thumb.
During the hearing the HSE said the tractor's starter motor had been faulty for at least two months and staff had been starting the engine by using a screwdriver or spanner to short the connection.
Anthony Reynolds, director of Wheathill Farms, of Thurlby, near Bourne, admitted failing to maintain the tractor and his solicitor said he was "very saddened that Mr Mould, who had worked on the farm for 26 years, had been injured".
The firm, which has had no previous accidents, was fined £10,000 and ordered to pay court costs of £5,529.
After the hearing, Mr Mould said: "Every now and again thoughts pop into my head and I think I am lucky to be alive.
"I still get aches and pains and obviously I am never going to be 100% to what I was but I am pretty determined to get on with and put it all behind me now."
HSE inspector Berian Price added: "Mr Mould suffered severe injuries and they could have been possibly fatal injuries.
"This fine sends a clear message to other people in the industry to ensure they maintain their work equipment in good working order."