Leicester primary schools to get £15m investment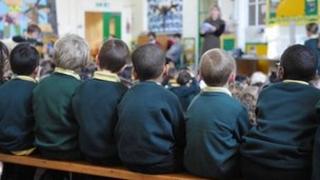 Primary schools in Leicester are to get £15m of government funding for extra classrooms following a rise in birth rates and new arrivals to the city.
Leicester City Council said investment was needed because of the condition of primary school buildings and a rise in demand for places.
The authority said it had forecasted a need for 600 more pupil places over the next two years.
If approved, phase one of work could start in July ready for September 2015.
'Converting buildings'
Councillor Vi Dempster, the city council's executive member for children, young people and schools said: "We have growing demand for school places right across the city and we have a responsibility to ensure there are sufficient pupil places across the city.
"This work will provide much-needed places at schools, and will also improve the learning environment for many children.
"At the same time we are working on a longer-term plan to address demand in areas where converting buildings or constructing new classrooms is not a simple option, or is not an option at all."
Work is still subject to further discussions but will include a conversion of existing rooms at a building in Imperial Avenue, Braunstone and a re-modelling of Alderman Richard Hallam and Braunstone Frith infant and junior schools.
Up to seven extra classrooms will also be built at Sandfield Primary School, Linden Primary School, Wolsey House Primary School, Rushey Mead Primary, Medway Community Primary and Mowmacre Primary, which is hoping to add a library, IT suite and science rooms.
The money is from the government's Basic Need capital fund.
Ms Dempster said the next phase of work would look at areas of high demand in the city where new buildings are not an easy option, details of which would be announced later this year.