King Richard III exhibition attracts 15,000 in two weeks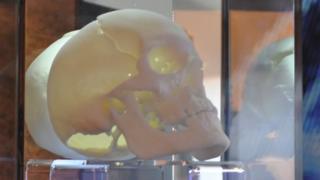 An exhibition about the archaeological dig for Richard III's remains has attracted 15,000 visitors in its first two weeks.
The display at Leicester's Guildhall explains the story behind the search for the lost monarch under a council car park in the city.
It also explains the scientific evidence which led to remains found last year being identified as the king.
The venue normally attracts about 37,000 visitors over an entire year.
Visitors have queued around the building for the free exhibition, which is expected to remain at the Guildhall for about a year, until a permanent visitors' centre opens.
Leicester mayor Peter Soulsby said: "These extraordinary visitor numbers show how much the Richard III story has captured the imagination of people across Leicester, Leicestershire and beyond.
'Exciting chapter'
"It is wonderful to see so many people taking an interest in this exciting chapter of the city's history.
"We hope to build on this huge level of interest and continue to help really bring to life the fascinating, gripping and colourful story of Richard III."
On its busiest day so far, 1,461 visitors came to the exhibition, which includes an exact model of King Richard's skull, touch-screen information panels, medieval weapons and narration from the key archaeologists, historians and researchers involved.
Richard, who was killed at the Battle of Bosworth in 1485, was buried in the church of the Greyfriars but the location was lost when the building was demolished.
A team of experts and enthusiasts traced the grave and persuaded the city council to allow them to dig up an employees' car park
Earlier this month, experts from the University of Leicester revealed the remains found in September were those of the notorious king.