Reward offered to catch taggers in Leicester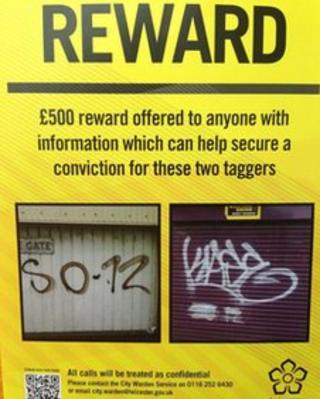 A reward is being offered to catch vandals who have daubed up to 2,500 graffiti "tags" across a city.
Council officials have spent about £28,000 cleaning the symbols SO 12 and Kase from homes, shops and walls in Leicester.
The practice is known as tagging and it is believed just a few people are behind these two signs.
Now £500 is on offer for information which leads to a prosecution - the first reward of its kind.
Sarah Russell, assistant city mayor, said the vandals behind these tags were becoming "increasingly prolific".
She added: "It's becoming difficult for us and for businesses to bear the cost of constantly removing these tags.
"We have never offered a reward of this kind before. Given the scale and cost of the problem, we feel we need to try something new to encourage people to come forward with information."