Leicestershire councils vote on big budget cuts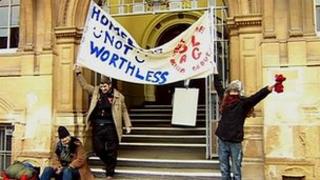 Leicestershire County Council is to spend more than half its current reserves over the next four years.
Councillors voted to commit £56m of the £100m fund to supporting vulnerable families, adult social care and economic development.
But the authority still approved £48m of cuts over four years, with another £30m still needing to be found.
Setting its own budget, Leicester City Council said it needed to save £9m over two years.
Adult social care is facing the brunt of the cuts - £12m in the county and nearly £4m in the city.
Jobs axed
Other areas affected are services at children's centres in the city and county-wide highway maintenance.
Officials said they were facing a 10% drop in central government funding and had already made substantial backroom savings.
The county council said it had made about £25m in savings from its £356m budget this financial year.
It has lost more than 700 staff in the last three years and over the next four it is expected the equivalent of another 1,100 full-time posts will go.
The city council has already lost 500 posts and another 100 were expected to be axed.
'Vital services'
City council tax bills will rise by just under 2%, and while frozen in the county next year, will go up by 1.5% in the following three years.
Tony Donovan, chief executive of Age UK in Leicestershire, is worried about the impact of the cuts.
He said: "We have an aging society and many of these are going to need intensive support to remain in the community.
"Our experience is that many more people are going to seek the help of Age UK and other care providers and the fear is that some of those providers that are not so well resourced will find life too difficult to continue."
Leicester Mayor Sir Peter Soulsby said the city annual funding deal from government had already been cut by £75m, leaving it with a £300m budget.
"We are seeking to protect vital services for people of all ages across the city and we are keeping some £84m in the budget for adult social care.
"Cuts have to be set in the context of what are undoubtedly the harshest government funding cuts in living memory," he said.
Proposed cuts to the city's homelessness strategy - a third of the £6.6m budget - were taken off the agenda as a consultation into the changes only finished on Monday.