Richard III dig: Leicester plans to build on king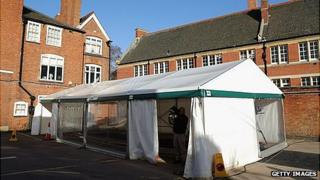 A permanent museum to Richard III is expected to open in Leicester by early 2014, say officials.
Experts from the University of Leicester revealed on Monday remains found under a car park in September were those of the notorious king.
City mayor Sir Peter Soulsby said a nearby former school building will be refitted in time for the re-interment of his remains at the city's cathedral.
A bid to get the king interred in York, where he had close ties, continues.
Richard, who was killed at the Battle of Bosworth in 1485, was buried in the church of the Greyfriars but the location was lost when the building was demolished.
'Fantastic opportunity'
A team of experts and enthusiasts traced the grave and persuaded the city council to allow them to dig up an employees' car park.
On Monday, it was announced a study of the bones, along with DNA and carbon dating tests, proved "beyond reasonable doubt" the skeleton was Richard III.
Despite some protests from the authorities in York, Leicester cathedral and city council have made plans to host the remains.
In December, the city council paid £850,000 for the former Leicester Grammar School buildings, next to the car park.
Sir Peter said: "We are working with the cathedral to have the museum open at about the same time as the internment, in about 12 months time.
"In the meantime we have a small but excellent temporary exhibition opening at the Guildhall, telling the story of Richard, the search for his grave and it even has an exact copy of his skull.
"This is a fantastic opportunity for Leicester. Obviously it is important we tell the story of Richard but we can relate that to the rich history this city has got, stretching back 2,000 years."
Tomb location
Officials also confirmed the site of the grave, currently covered by a temporary shelter, would be permanently preserved and form part of the museum.
Canon David Monteith, from Leicester Cathedral, said: "The cathedral has received a formal request from the city mayor that we should begin preparation to receive his bones here.
"It will be wonderful to have Richard buried here, he has, after all, laid within the parish of St Martin Leicester for 500 years. just yards from the cathedral."
Church authorities said they were still deciding details of the location of the tomb and ceremony but no kind of "state" event was anticipated.