WWII fighter pilots honoured in Hinckley, Leicestershire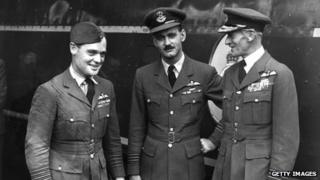 Two World War II fighter pilots are to be honoured when a housing development in a Leicestershire town is completed.
Captains Douglas Bader and Johnnie Johnson visited Hinckley in 1959 to open the Tom Towers Boys Club, later renamed Stoke Road Boys Club.
Over 60 new homes will be built on the site with some of the roads being named after the crewmen.
Sir Douglas, who lost both his legs in 1931, was credited with 20 aerial victories during WWII.
'Fitting tribute'
The roads will be named Towers Drive, Bader Close, Johnson Close and Greycap Close.
Bader, who died in 1982, was captured by enemy forces during the conflict and placed in a POW camp at Colditz Castle, where he remained until it was liberated by the US army in 1945.
Greycap was the call-sign of Leicestershire-born James Edgar "Johnnie" Johnson, who claimed 34 individual victories during his RAF service. He died in 2001.
David Bill, deputy leader of Hinckley and Bosworth Borough Council, said it was a "fitting tribute" to commemorate the pilots as they helped pull the country through its darkest hours.