Flying emergency service for children starts up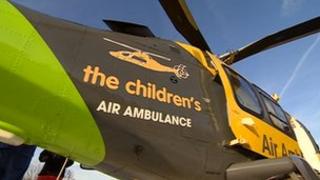 An air ambulance service is teaming up with a specialist emergency team to treat children around England.
The Children's Air Ambulance from Coventry will fly doctors from Leicester's Glenfield Hospital to treat critically-ill patients.
The service will eventually fly children from other locations to Glenfield Hospital for treatment.
The doctors will use an Ecmo machine that acts as a heart and lung for the patients.
Glenfield is the only hospital in the UK with a mobile Ecmo service for children.
Cardiac patients
The service will transfer children back to Glenfield for treatment starting in the spring of 2013.
The Ecmo equipment is used when a patient has life-threatening cardiac or respiratory problems that prevent their heart or lungs from working normally, a hospital spokesman said.
The device is attached to the child and acts as an artificial lung, oxygenating the blood outside the body until the lungs are strong enough to work by themselves.
Andy Williamson from the Children's Air Ambulance, said: "Our partnership with the Ecmo team at Glenfield Hospital is a fantastic example of how we can work with paediatric intensive care units across the country to improve the survivability and recovery of critically ill children and babies."
"If a child is too sick to move, Glenfield have taken this extra step to create the mobile Ecmo service to deliver the treatment to the child's bedside in any hospital," a hospital spokesman said.