'Ludicrous' cost of Curve theatre project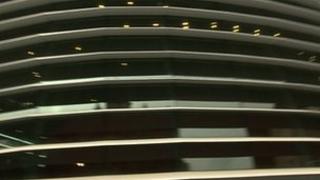 The Mayor of Leicester has said the cost of building and running the city's Curve theatre had reached "ludicrous" levels.
The admission came as the city council said it had still not found a tenant for the former Haymarket Theatre, costing it more than £100,000 a year.
The Curve was originally meant to cost Leicester City Council between £4m and £5m. It ended up paying out £36.8m.
Sir Peter Soulsby said the council was also paying £1m-a-year in subsidies.
"Looking at the Curve project - and it's a wonderful theatre and I am very proud to have it - but it really is one of the most expensive and badly handled projects in this city's history," he said.
Haymarket costs
Sir Peter said as well as the £100,000-a-year running costs the Haymarket Theatre incurred, there was an annual payment of £20,000 in empty property rates to pay.
"I'm very actively trying to find a use for this building but it's not easy to find someone in this economic climate," he added.
Although Leicester City Council does not own the Haymarket building, it does own the lease and it is on the market for £500,000.
"We've got one group particularly interested in it but whether that will come to anything, I don't know," said Sir Peter.
When plans for the Curve were unveiled in 2000, it had a budget of £26m with the city directly paying £4.4m.
But changing designs and rising costs more than doubled the overall price tag to £61m.
It has two auditoriums, one seating 750 people, the other 350, which can be combined into one theatre space.