Three councils to hold health meeting over Glenfield heart unit move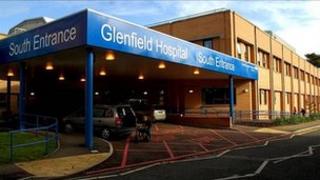 An urgent meeting will be held to discuss a decision to shut down Leicester Glenfield Hospital's child heart surgery unit.
An NHS review has decided to move the surgery team and specialist unit to Birmingham Children's Hospital.
Councillors from Leicestershire, Rutland and Leicester could ask the health secretary to review the move.
A county council spokesman said he hoped the government would listen to their concerns.
Online petition
County council deputy leader David Sprason said the decision to move the children's Ecmo unit from Leicester "was not considered properly".
Ecmo (Extra Corporeal Membrane Oxygenation) treatment is used to oxygenate the blood of patients when the lungs or heart stop working normally.
Mr Sprason, deputy leader of the Conservative-led council, said the Glenfield Hospital had a mobile Ecmo unit which uses a Sea King helicopter, but Birmingham Children's Hospital did not have similar facilities.
The hospital runs the UK's largest Ecmo unit, which conducts about 230 operations on children and 70 on adults each year. The adult unit will remain at the hospital.
Mr Sprason said the Ecmo unit was world-renowned but was not awarded any points for innovation as part of the review process.
The University of Leicester Hospitals NHS Trust is looking at the "legal and clinical" reasons behind the decision to stop surgery for children at the East Midlands Congenital Heart Centre at Glenfield.
The joint health scrutiny committee, made up of members from Leicestershire and Rutland county councils and Leicester City Council, has the power to refer the decision back to the health secretary for consideration.
Campaigners fighting to save the children's heart unit took a 100,000-signature petition to Downing Street before the decision in early July, and a new online petition opposing the closure has been set up.
The Joint Committee of Primary Care Trusts, which also decided to close child heart units at Leeds General Infirmary and London's Royal Brompton Hospital, said it wanted to improve services by creating fewer but larger surgical centres.