Nesting blue tits stop 'tank' restoration work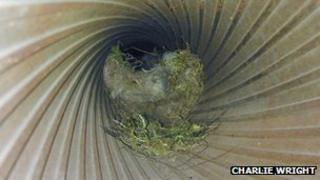 Restoration work on a British armoured vehicle has had to stop after a pair of blue tits nested in its gun barrel.
Charlie Wright, 47, an instructor at a tank driving experience business, said he discovered the nest 3ft (91cm) down the gun on Sunday.
The FV433 Abbot self-propelled gun, based at Measham Lodge Farm, in Leicestershire, is the company's best vehicle, said Mr Wright.
He said: "We're stuffed until the chicks have gone but it's a chuckle."
Mr Wright added: "One of our prized vehicles is off the road for three or four weeks but we're all bird and animal lovers so we'll have to wait."
The Abbots were used by the British Army between 1965 and 1995.