'Jubilee' Humboldt penguin chicks born at Leicestershire zoo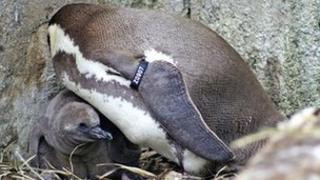 Two Humboldt penguin chicks have been named after the Queen and the Duke of Edinburgh to mark the Diamond Jubilee at a Leicestershire zoo.
Anna Westbury, from Twycross Zoo, said the names, Elizabeth and Phillip, were suggested by a member of the public.
The two chicks will be officially named on 4 June to celebrate the monarch's 60-year reign.
Ms Westbury added that a total of five, all from different pairs, have recently hatched and more could be expected.
"Unlike last year we have not had to intervene with the births at all, the parents have done a great job keeping the eggs warm and nursing the chicks through the critical first few days," she said.
"Some visitors have reported seeing another egg in one of the nests, but because we can't see fully into the nests we are unsure as to whether there might be more chicks to come.
"Some of the chicks are getting quite big now but the latest two born are still really tiny."
The Humboldt penguins, which breed on the coast of Peru and Chile, are listed as vulnerable in their native habitat by the International Union for Conservation of Nature.
There are concerns that the species could become extinct within decades.
Total world population of the endangered penguins is around 12,000 breeding pairs.