Leicester's heart unit: Council may seek judicial review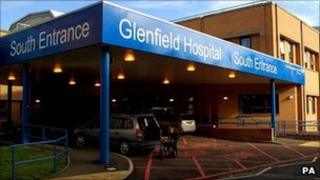 Leicestershire County Council may call for a judicial review to save Glenfield Hospital's children's heart unit.
The campaign to prevent the cardiac surgery centre being shut down has been backed by politicians from all parties at the county council.
The authority's health scrutiny committee said the public consultation about re-organising children's heart surgery in England was "flawed".
A final decision on the future of the units will be made later this year.
The Department of Health's Safe and Sustainable review team is looking at all of England's child cardiac units in a bid to concentrate services in fewer, better units.
Councillor Ruth Camamile, a member of Leicestershire County Council's health scrutiny committee, said they were supporting the unit on behalf of the people of Leicestershire.
75,000 responses
"There's been talk of judicial review. We felt the consultation was flawed and it should have demonstrated why option B was favoured over option A, which included Glenfield Hospital," she said.
"The Leicester option was the highest scoring in terms of availability, access, travel, deliverability, sustainability and affordability."
More than 75,000 people responded to the England-wide public consultation, which ended on 1 July.
Option A was preferred by a majority of patients and the public, which included surgery at the Leicester hospital.
Sir Neil McKay, who chairs the Joint Committee of Primary Care Trusts, said the strong support for the children's heart unit in Leicester would only be part of its considerations.
Most organisations, including NHS trusts and heart charities, backed option B, which would see an end to operations at Glenfield Hospital.
Mrs Camamile said: "We'd like to know why the review team has discounted the views of the public?"