Snow leopard cubs born at Leicestershire's Twycross Zoo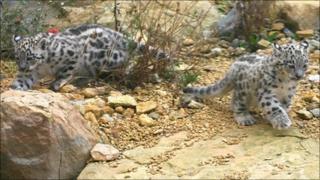 Two snow leopard cubs are the first of the endangered cats to be born at Twycross Zoo in Leicestershire.
The brother and sister, who were born in June and are yet to be named, are the cubs of male Suou and female Irma.
The zoo's general curator, Neil Dorman, said the birth of the siblings was a "significant contribution to the conservation" of snow leopards.
The parents arrived at the zoo in May 2010 as part of an international breeding programme.
Zoo keeper Nicola Williscroft said the cubs enjoyed "wrestling" in the zoo's Himalaya Centre and were "a proper brother and sister".
"They're very playful, stalking each other, giving mum paws and claws to the face and biting her ears," she said.
"They have a mad 15 minutes and then that's it.
"They curl up together in the nest box to sleep until they recharge themselves for their next little mission outside."
The zoo launched a poll for people to select names for the siblings, but has not yet announced the winners.
The male cub will either be called Farrin, Khan Tengri, Makalu or Tendu. The female will be named Arina, Maya or Nukala.
Ms Williscroft said that the first-time mother, who had carried the cubs for about 100 days, was doing a "brilliant job".
"She always has a watchful eye on them," she said.
"The dad is not currently in the enclosure with them as they need to be slightly older before he is introduced to them, but he has been chuffing through the separating enclosure - a big cat greeting."