Leicester Market opens after £600,000 revamp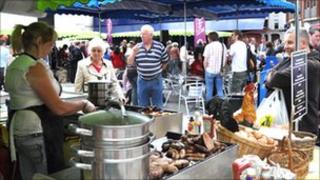 Leicester's newly elected mayor has reopened the city's main market after a £600,000 revamp.
The open-air market will have 20 gazebo-style stalls and will operate every Friday and Saturday.
The city council-led redevelopment included repaving the area and the addition of power supplies and fittings for the new stalls.
The stalls will be used for arts, crafts and collectables from Mondays to Thursdays.
Leicester Market was named the UK's favourite market for the last two years by the National Association of British Market Authorities.