Elsie Frost murder: New leads over girl's 1965 Wakefield killing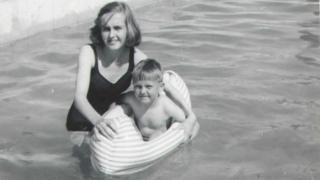 Detectives investigating the 50-year-old murder of a girl killed as she walked home have uncovered new lines of inquiry following a cold case review.
Elsie Frost, 14, was found dead on a towpath, in Wakefield, in 1965. She had been stabbed in the back and head.
West Yorkshire Police want to trace a man seen near the scene and identify someone who may have been meeting Elsie in secret in the days before her death.
The force said her murder is one people have "never stopped talking about".
The re-investigation of the case was prompted by a BBC investigation into Elsie's murder, which took place on 9 October 1965.
Det Ch Insp Elizabeth Belton said: "Elsie's death may be many decades ago, but the pain of her loss remains as fresh as ever for her brother Colin and sister Anne.
"Her brutal murder shattered their family and with such a significant anniversary near, I would ask anyone who may not have come forwards then, for whatever reason, to do so now and provide them with answers."
Analysis: Jon Manel, iPM, BBC Radio 4
It all started with an email. It was written by Elsie's older sister, Anne, to BBC Radio 4 about 12 months ago. She said:
"Next year will be the 50th anniversary of the murder of my 14-year-old sister. The perpetrator has never been brought to justice and I feel sad about that."
Those words resulted in a BBC investigation on the iPM Programme, which lasted five months.
Elsie's siblings felt they did not know enough about what happened. We never set out to try to solve the murder - that is a job for the police - but we tried to answer some of their questions and provide them with the details they felt they wanted to know.
Anne said she and her brother Colin were determined to do everything they possibly could on their sister's behalf.
Half a century after the murder, the new police investigation gives Elsie's family a sense of hope.
Colin Frost, Elsie's younger brother who was six at the time of the murder, said: "Both parents died with a huge amount of guilt - it did affect them all through their lives."
Mr Frost said he wanted answers about the case "for Mum and Dad, for Elsie and the people of Wakefield who have never forgotten".
He urged people to "to come forward with any little bit of information you may have".
Elsie was attacked as she walked through a railway tunnel, which now leads onto Monckton Road, just off the Calder and Hebble Canal towpath.
She was on her way home after leaving Horbury Lagoon at about 15:50 BST. Her body was discovered at the foot of the "ABC" railway service steps by a dog walker about 25 minutes later.
The reinvestigation of her death has been carried out by the force's Major Investigation Review Team, assisted by newly recruited civilian investigators, many of whom are retired detectives.
Much of the evidence gathered in 1965 in connection with the case was, however, destroyed.
Despite the lack of evidence, Det Ch Insp Belton said: "We now believe at least one person, who was never interviewed at the time, was seen near the location where Elsie was murdered on the canal towpath.
"He was described as white, 25 to 30-years-old and riding a black bike with a basket on the front and wearing a white lab type coat possibly of the style then worn by someone who could have been a delivery boy, butcher or abattoir worker.
"Inquiries also suggest that when staying at a friend's a couple of weeks before the murder Elsie got dressed up and went out, possibly to meet someone.
"Elsie's murder may be nearly 50 years old but it is a crime people in Wakefield have never stopped talking about."
Only one arrest has been made in the case since 1965. But, after being committed for trial in 1966, the accused man - Ian Bernard Spencer, then aged 33 - was cleared on the orders of the judge who heard the case.
Anyone with information is asked to contact the Major Investigation Review Team on 101.