Wuthering Heights film script bought for five figure sum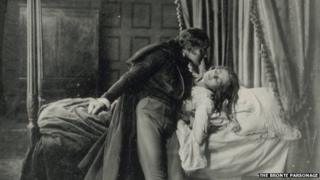 A rare film script of the first cinema adaptation of Emily Bronte's Wuthering Heights has been bought for a five-figure sum.
The Bronte Society bought the 22-page document used by director Arthur Victor Bramble from a West Sussex book dealer.
It includes production notes and details of costumes and locations.
The film, made in the 1920s, was shot in and around Bronte's home of Haworth, West Yorkshire, but no copy of it has ever been found.
'Incredible script'
The society said it had made numerous attempts to locate the film in the United States before being contacted by the book dealer.
It said the script's discovery was "lasting evidence" of the film's production.
Ann Dinsdale, from the the Bronte Parsonage Museum, said: "It has taken several years to even come close to finding out whether a copy of the film existed, and so to now be in ownership of this incredible script is a fantastic and overwhelming triumph."
The film features Haworth Old Hall as Wuthering Heights and Kildwick Hall in Keighley as Thrushcross Grange.
The script will go on display in early 2015.