Seven jailed over car dealership machete rampage in Leeds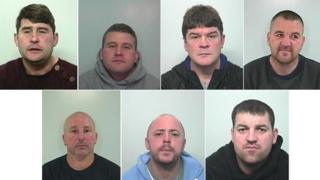 Seven men have been jailed over a family feud that saw balaclava-clad men burst into a car showroom armed with machetes.
The masked men chased three others through the Volkswagen dealership in Elland Road in Leeds on 31 October.
The raid was the latest in a string of violent clashes between the James and Pattison families and their associates.
Seven men were sentenced to jail terms ranging from three to five years.
'Put lives at risk'
The violent episode at the car dealership was the culmination of a number of other 'tit for tat' incidents between the families, police said.
Several masked men with machetes entered the premises in pursuit of three others, terrifying staff and customers.
Eight men were charged with conspiracy to commit violent disorder and seven were found guilty at Leeds Crown Court.
Det Ch Insp Lisa Atkinson said: "Their actions not only put the lives of their intended targets at risk but could easily have resulted in innocent members of the public being hurt.
"These offenders think they can take the law into their own hands to sort out their disputes. They think of themselves as untouchable but this case should clearly demonstrate that no-one is above the law."
Daniel Robert James, 38, of Bullough Lane, Rothwell, was sentenced to five years in prison.
Lee James, 35, of Gelderd Road, Leeds, and Peter James, 40, of Murton Lane, York, each received three years and nine months.
Adam Kindon, 36, of Ingram Road, Leeds, Levi Pattison, 39, of Gelderd Road, Leeds and Steve Pattison, 35, of Hillidge Road, Leeds, each received three years and three months.
John Kindon, 29, of Gelderd Road, Leeds, received three years.
Samuel James, 55, of Spring Avenue, Leeds, was found not guilty.