Yorkshire Water to appeal listed reservoir decision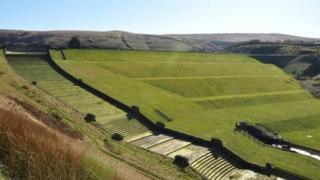 Yorkshire Water is to appeal against a decision to refuse changes to a listed Victorian reservoir in West Yorkshire.
Butterley Reservoir's stone spillway, near Marsden, was built between 1891 and 1906 to cope with overflows during periods of heavy rain.
The company said it was disappointed Kirklees Council planning committee had refused plans to rebuild part of it.
Campaigner Tom Lonsdale said the spillway was of "historic and aesthetic importance".
Yorkshire Water said plans to demolish and rebuild part of the spillway would make it "fit for purpose".
John Bond, from the company, said the changes were needed because the spillway "ensured the safety of thousands of homes".
Mr Bond said he was aware of the local interest in the spillway, but the company had worked hard on changes to maintain "pride in the skills of Victorian engineers".
Mr Lonsdale, of Save Butterley Spillway, questioned the amount of effort Yorkshire Water had put into exploring other options that would not "destroy the validity" of the listed structure.
He said any harm done would be "permanent and non-reversible" but the campaigners did share the concern for safety, he added.
The Victorian Society said the structure, which is about eight miles (13km) from Huddersfield, was the UK's only listed spillway and resembled an "immense staircase".
The Grade II-listed reservoir had been included on the society's list of the 10 most endangered buildings in England and Wales in 2012.
Until a decision is made, the water level in the reservoir has been lowered by more than 19ft (6m) said Yorkshire Water.