NHS boss Jo-Anne Wass to get six-figure secondment salary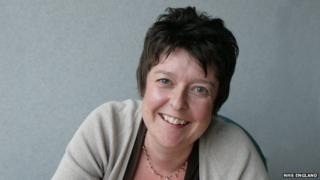 A senior NHS manager who is going on secondment will continue to receive a six figure salary despite not planning to return to her job, the NHS said.
Jo-Anne Wass, from NHS England, is to get a reported salary of more than £150,000, while at Leeds University.
NHS England confirmed Ms Wass was becoming a consultant at the university and did not plan to return to her job.
NHS chief executive Sir David Nicholson, said it was a "good personal career development opportunity".
However Charlotte Leslie, a Tory MP and member of the Health Select Committee, described the agreement as "absolutely unbelievable".
She said: "It shows that the NHS is a tale of two worlds. There is the hard-working front line who abide by economic rules and austerity."
An NHS spokeswoman confirmed the agreement had been reached.
"Jo-Anne thinks it is right that NHS England has certainty in planning for the future," she said.
"As a result, [she] has made it clear that she has no intention of returning to her role."
'Improve health'
The move of Ms Wass, who is a national HR director, was reported by the Health Service Journal (HSJ) in February.
In a statement, she said: "I have made this decision with mixed emotions.
"Having worked in the NHS for 25 years, my dedication and commitment to it remains strong.
"However, my close colleagues will tell you that I have always been passionate about the power of education to change lives, create opportunity and social mobility, and ultimately improve health.
"In the end, I concluded this was too good a chance to let pass."