Bradford Gatehaus owners complain flats decaying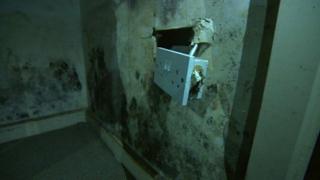 A £22m award-winning building in Bradford intended to lead the city's regeneration has fallen into disrepair and decay, the owners of flats say.
The Gatehaus complex in Little Germany was voted Building of the Year in the city's 2008 design awards.
But damaged and mouldy walls, defective lighting and missing ceiling panels in corridors have angered landlords.
Property manager Braemar Estates said it inherited several problems when it took over Gatehaus' management in 2012.
Braemar's managing director Neil Roberts said there were "considerable structural problems" to the building when the company took over, as well as tenant arrears of £149,000 and unpaid bills to suppliers in the amount of £92,000.
In 2007, the Gatehaus apartment block was listed in the city council's Community Pride publication as part of a £2bn regeneration of the city centre.
One landlord who owns apartments in the Gatehaus building said he felt he had "been mugged" by having to pay thousands of pounds in service charges.
Now the apartment owners' association wants to manage the building itself.
Landlord Jamil Ashrat said the Gatehaus Owners' Association represented a majority of those owning properties within the complex.
He said the association had told Braemar they wanted a "right to manage" agreement.
"We're fed up with the building in this state. We [told Braemar] 'if this was your house you wouldn't accept it.'
"I feel like I've been robbed, you know, if I was on the street and somebody mugged me. It's worse than that, to be honest with you, it's a hell of a lot more money."
Braemar Estates said it expected to make "measurable improvements" to the complex, which was built in the Little Germany area of the city in 2006.
Mr Roberts said: "We have addressed a number of the major structural issues and reduced the leaseholders' financial liabilities considerably over the past 18 months.
"We expect to commence further repair and redecoration projects including the remedial works to the common areas below ground level."