Bridgewater Place wind reduction plans unveiled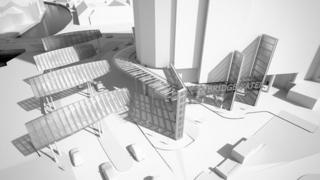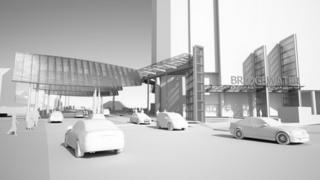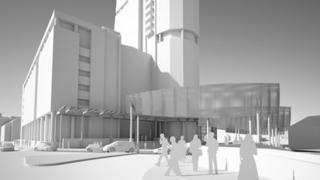 The first images of plans to protect the public from dangerous winds around Yorkshire's tallest building have been released by its owners.
CPPI wants to put up four baffles across Water Lane, in Leeds, to deflect the wind outside Bridgewater Place.
The firm also hopes to put up three vertical screens and a glass canopy on the building.
In 2011, strong winds around the 367ft (112m) high tower blew a lorry over, killing pedestrian Edward Slaney.
CPPI unveiled the initial proposals at a meeting of Leeds City Council's City Plans Panel on Thursday.
'The right scheme'
The baffles, measuring about 66ft (20m) long and 13ft (4m) deep, would be set 19ft (6m) above the road.
Vertical screens, ranging from about 40ft (13m) to 50ft (17m) in height, would be put up on the north west corner of the building and a 13ft (4m) screen could be constructed at the southern end of Bridgwater Place, near to The Grove Inn.
Work on the scheme is due to start at the end of 2014 and is expected to take a year to complete, according to CPPI.
Nick Sinfield, from CPPI, said this was "the right scheme to help alleviate the winds surrounding Bridgewater Place".
"We want to fix this problem. We know there are issues to be fixed, we think we've got something we can implement, it will work, and it will cure that."
Death inquest
The scheme would cost "many millions of pounds" to put in place, Mr Sinfield added.
Dr Slaney, 35, from Sowerby Bridge, West Yorkshire, was walking on a bridge over the River Aire in Neville Street when a lorry toppled over on to him on 10 March 2011.
The inquest into his death heard the area around the tower had become known for strong winds since it was completed in 2007.
Coroner Melanie Williamson said the junction should be closed to all users when gusts reached about 45mph.
The authority's current policy is to close the roads to vehicles, including bicycles, when wind speeds reach 65mph.