New Year's Honour for Halifax wheelchair rugby stalwart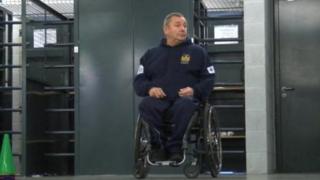 A volunteer sports administrator from West Yorkshire has been appointed MBE in the Queen's New Year Honours list.
Malcolm Kielty, 63, from Halifax, is a regional rugby league development officer and has introduced thousands of disabled people to sport.
He said: "When I got the letter I was pretty stunned, but I am delighted for many other people too."
Mr Kielty, who contracted polio at 16, helped introduce the Wheelchair Rugby League to England.
"These awards don't happen in isolation and many people will share my aspirations," he added.
"Wheelchair Rugby League is still in its infancy, now it is a matter of helping it to grow."
'Wheels on ground'
The game offers disabled and non-disabled players of both sexes the chance to play a five-a-side wheelchair-based game still recognisable as rugby league.
Mr Kielty, whose father Stan played more than 480 games for Halifax Rugby League Club, said: "I come from a family with a rugby league background and we don't get carried away.
"I've got plenty of work to keep my wheels firmly on the ground".
At the age of 17 Mr Kielty formed a junior rugby league club and in the early 1970s he established the Physically Handicapped, Able Bodied League.
In the 1980s he helped establish the Greetland Allrounders Rugby League Club.
Since 2003 he has led the Calderdale Community Coaching Trust and is involved in the Calderdale Volunteer Action Group, which encourages young people from under privileged backgrounds to become involved in sport.
He has raised thousands of pounds for the provision of specially-adapted sports wheelchairs.
Other people appointed MBE in the New Year Honours list include Peter Starling, of Collingham, for services to the arts, education and community in West Yorkshire.
Patricia Bleau, of Bradford, a foster carer and founder of the Chantelle Bleau Memorial Fund, was given the award for services to young children.
An MBE also goes to Stuart Cummings, of Ilkley, former rugby league referee and former match official director at the Rugby Football League for services to rugby league.
Simon Pilling, chief fire officer of West Yorkshire Fire and Rescue Service, was awarded the Queen's Fire Service Medal.