Jordan Stapleton gun murderers jailed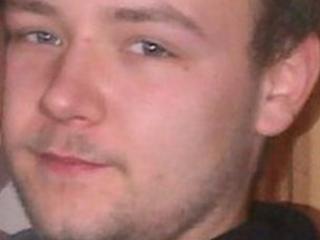 Four men have been jailed for shooting dead a man in Leeds as his four-year-old son slept nearby.
Jordan Stapleton, 21, was shot at Beckhill Chase, Meanwood, on 16 April.
Colin Webster, 19, of Hawkshead Crescent, and Cyrus Hanley, 19, of Miles View, Potternewton, were both jailed for 24 years.
Luke Toner, 20, of Scott Hall Place, will serve 22 years. Jake Looby, 19, of Beckhill Avenue, was jailed for 20 years at Leeds Crown Court.
According to West Yorkshire Police the four men considered themselves "streetwise gangsters" and called themselves the S Gang.
During their trial it emerged the men believed Mr Stapleton had reported Hanley, his cousin, for drug offences and the gang had wanted revenge.
'Amateurish approach'
Mr Stapleton was shot in the bathroom of his home in what West Yorkshire Police described as an "execution".
Det Supt Scott Wood said: "This was a truly appalling crime where a young man was needlessly killed.
"The evidence has shown that Jordan's murder was planned in advance and that those involved knew exactly what was going to happen.
"Although Jordan's killers were involved in crime and clearly had access to a firearm, they were not the 'Mr Bigs' they seem to think they are.
"This is abundantly clear from the amateurish approach they took to taking revenge on Jordan although the terrible consequences were the same."
Shortly after the shooting police believe Looby made a 999 call from a nearby phone box to ensure Mr Stapleton's son did not find his body.
Mr Stapleton's mother, Samantha Wray, said her son had known all the men well, including his cousin Hanley, whom he trusted.
She said: "They planned together to murder my only son and leave his son without his only parent. They have shown absolutely no remorse.
"Nothing can ever bring my son back and I will never forgive those responsible for his death. Jordan will miss out on all the important stages of his son's life.
"No sentence imposed will ever make up for this or for the empty place in our lives."