Jan Fletcher: Businesswoman fails to pay £2m costs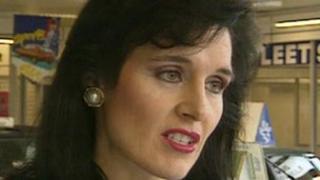 A businesswoman who was ordered to pay a council £2m in costs after losing a court battle has failed to pay up.
Jan Fletcher's firm Montpellier Estates Ltd lost a bid for damages after it claimed Leeds City Council broke procurement rules over a contract to build Leeds Arena.
The High Court last month ordered her to make an interim payment by 14 November.
A council spokeswoman said it now had "no option but to enforce the order".
"Jan Fletcher has as yet made no payment to us," she said. "No credible proposal for paying our costs has been brought forward either."
'Integrity'
The authority would not say how it would enforce the order, but its options include seizing her property.
The dispute arose in November 2008 after the council cancelled a tendering process and decided to build the arena, which opened earlier this year in Clay Pit Lane, itself.
Harrogate-based Montpellier Estates, which had proposed a site in Sweet Street, in Holbeck, claimed it had been deceived into entering and remaining in the competition to develop the arena.
But in February, Mr Justice Supperstone concluded the council had always acted with "honesty and integrity".
The judge in April then ordered Montpellier Estates to pay £2m within 28 days, but this did not happen. A winding up petition was served on the firm in July.
Cable adviser
Mr Justice Supperstone then issued an order on 17 October that Ms Fletcher should personally pay the interim costs before a final decision was made on the total amount due.
The council spokeswoman said Ms Fletcher had given a "written undertaking that she would personally pay any cost order that her company could not meet".
Ms Fletcher's business portfolio has included car dealerships, restaurants, property developments and regeneration schemes.
In 1995, she was voted Yorkshire Woman of the Year and made an OBE for Services to Industry in 1997.
In 2010 she became part of the government's Entrepreneurs' Forum and acted as an adviser to Vince Cable.
Ms Fletcher was unavailable for comment.