Two killed in fatal smash on Thornton Road, Bradford, named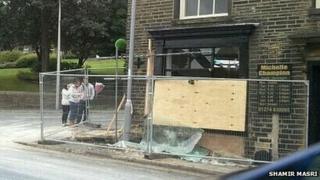 Two of the three people who were killed when a car crashed into a hairdresser's studio have been named.
The black Mitsubishi Evo crashed into the building near the junction of Thornton Road and Kipping Lane just after 23:00 BST on Monday.
Jonathan Adam Ruthven, aged 27, from Denholme, Keighley, was driving and the rear seat passenger who died was 19-year-old Jade Best, also from Denholme.
The 32-year-old front seat passenger who died has not been named by police.