Brain-damaged girl awarded £3m over St James's Hospital mistakes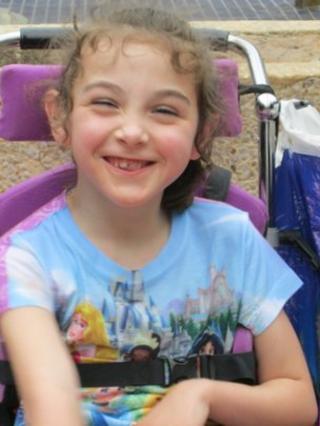 An eight-year-old girl who suffered brain damage because of complications at birth has been awarded a multimillion-pound settlement.
Ruby Curtis has received a £2.95m lump sum with further annual payments for care and and support, according to lawyers Irwin Mitchell.
The law firm said staff failures during Ruby's birth at St James's Hospital in Leeds in 2005 caused cerebral palsy.
Leeds Teaching Hospitals NHS Trust said it "apologised for the mistakes".
Ruby's mother Lisa Curtis, 40, from Garforth, near Leeds, said: "Ruby is a fantastic little girl and we are so proud of her, she is such an inspiration to us both.
"While it's heart-breaking to see her unable to do so many of the things the majority of other children take for granted, we couldn't have asked for a more perfect daughter."
Mrs Curtis was admitted to St James's in August 2005.
Hospital staff gave her a drug to bring on contractions, but her uterus ruptured and there was a failure to recognise a serious complication had occurred.
'Make life easier'
As a result Ruby was starved of oxygen, causing irreparable brain damage.
Ruby can make vocal sounds but has no clear speech. She uses her eyes to operate her communication aid and computer and drives an electric wheelchair.
Her father Steve Curtis, 41, said: "Ruby's condition affects every aspect of her life and she needs round-the-clock assistance to meet her needs."
A spokesman for Leeds Teaching Hospitals NHS Trust said: "We are pleased that a settlement was approved by the judge and hope that the compensation package agreed on will make life easier for Ruby and her family.
"We would like to apologise for the mistakes that occurred during the birth of Ruby and to reassure her family that we have learned lessons from what happened."