Leeds Festival clean-up costs sought by council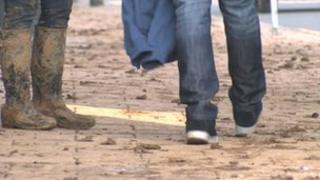 The council is to ask the organiser of the Leeds Festival to foot the bill for the clean-up of the city centre.
Leeds City Council workers were brought in on Monday to clean mud-caked streets caused as music fans made their way home from the three-day event.
Councillor Mark Dobson said he hoped bosses would "contribute to the excess cost".
Melvin Benn, the festival organiser, said: "We will of course discuss this issue and any other concerns."
Mr Benn, managing director of Festival Republic, added: "We work closely with Leeds City Council year round.
"We've never talked to the council about wellies before, but we are very happy to do so."
The council said "hundreds of pairs" of shoes and boots were abandoned in the streets as festival-goers left at the end of the event which had been hit by heavy rain.
At first the council said workers attempted to collect the boots for reuse but were "quickly overwhelmed" by the quantity and had to "bin them".
'A great event'
Mr Dobson said the council "fully supports" the festival but he would contact organisers to prevent "taxpayers" in Leeds having to pay for the cleaning operation.
A spokesperson for Network Rail, which owns and runs Leeds station, said: "We had additional cleaners on duty and the station is back up and running, although a few platforms still need attention."
The council said "significant" amounts of mud were found on New York Street, Boar Lane, Duncan Street, Sovereign Street, Swinegate, Wellington Street and Quebec Street.
It said people kicked and scraped mud off boots on to benches, buildings and kerbs on these streets and elsewhere.
West Yorkshire Police praised festival-goers and described it as "a great event and a success."
There were 28 arrests mainly for public order, assault and drugs-related offences.
The first Leeds festival, at a site in the grounds of Temple Newsam, was held in 1999.
The event is "twinned" with the Reading Festival so the same line-up appears at both venues over three days.
The festival moved to its current home, in Bramham Park close to the A1, for the 2003 event.