Leeds hospitals staff strike over new shifts system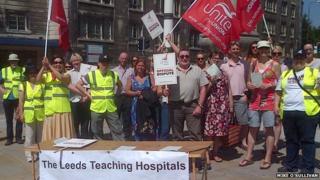 Pathology staff at three hospitals in West Yorkshire have started a 24-hour strike over changes to their working patterns.
The Unite union said switching 142 of its members from normal day working and on-call arrangements to a shift system would be unsafe for patients and staff.
Staff at St James's Hospital in Leeds, Leeds General Infirmary and Bradford Royal Infirmary are affected.
Leeds Teaching Hospitals Trust said patient safety was "our top concern".
The proposals affect biomedical scientists and support staff who test blood samples and monitor blood transfusions at the three hospitals.
Terry Cunliffe, Unite regional officer, said: "The trust is imposing new working patterns that put patients and staff safety in jeopardy in an attempt to save cash.
"There are insufficient staff to run these rotas, and existing staff will be forced to work excessive unsocial hours to the detriment of family life and health."
'Inadequate arrangements'
Unite said the plans by hospital bosses would also result in "significant pay cuts [for staff], in some cases up to 40%, which could cost them £20,000 a year."
Mr Cunliffe said: "We are asking for management to retract the imposition of these inadequate arrangements, due to come into force on 26 August, and negotiate with us to agree safe and robust arrangements which are workable and to maintain quality services."
The strike action, which started at 08:30 BST, also includes a continuing ban on overtime, Unite said.
But Mr Cunliffe said there was "an agreement to supply emergency cover".
Trust Medical Director Dr Yvette Oade said: "Patient safety is our top concern.
"Though pathology services are vital in any hospital, most of the treatments we provide do not require them, so most patients should be seen as normal."
Dr Philip Wood, clinical director for pathology at the trust, said: "Contingencies are being put in place to minimise any disruption to service."