Leeds City Council in bid to recoup arena costs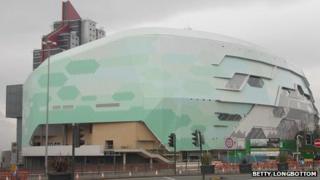 Council bosses have served a winding-up petition on a developer in a bid to recoup £2m spent fighting a lawsuit over a contract to build Leeds' arena.
Leeds City Council was awarded the interim costs after Montpelier Estates Ltd failed in a bid for £43.5m damages.
The firm tried to sue the council saying it had broken procurement rules.
Tom Riordan, the council's chief executive, said it had served the petition after giving Montpelier Estates "every opportunity to pay".
Mr Justice Supperstone ordered the firm to pay £2m in interim costs within 28 days on 25 April.
A final decision on the total amount the firm need to pay will be made by the judge at a later date. The council estimate the legal costs are more than £4m.
'Public money'
The city council said it had also given the Harrogate-based company and its chairman, Jan Fletcher OBE, an additional six weeks to meet the order.
Mr Riordan said: "Defending this unfounded case, which the judge himself said publicly should never have been brought, cost the council in excess of £4m at a time when we have to make severe cuts to our budgets.
"We simply cannot afford not to actively pursue recovery for council taxpayers of this much-needed public money."
The dispute arose in November 2008 after the council elected to build the arena, which is due to open this summer, in Clay Pit Lane, itself after cancelling a tendering competition.
Montpelier Estates, which had proposed a site at Sweet Street, in Holbeck, claimed it had been deceived into entering and remaining in the competition to develop the arena.
But, in February, Mr Justice Supperstone concluded the council had always acted with "honesty and integrity".
A spokeswoman for Ms Fletcher said that due to the legal status of the case she was unable to comment.