Leeds trolleybus plans to face government scrutiny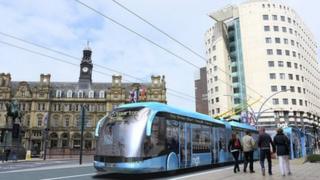 Proposals for Leeds to become the first UK city to get a modern trolleybus system are a step closer after outline plans were approved by councillors.
The £250m scheme would see an eight mile (13km) link built from the city centre to park-and-ride sites in the north and south of Leeds.
The scheme was initially approved by the government in July 2012.
The outline proposals will be submitted to the transport secretary in September, Leeds City Council said.
As part of the plans, the council will seek government approval to issue compulsory purchase orders and pay compensation.
Jobs boost
The trolleybus scheme, known as New Generation Transport (NGT), will link Leeds city centre with park-and-ride facilities at Holt Park and Bodington Hall in the north, via the A660, and Stourton, in the south, via the A61.
The Department for Transport will pay £173.5m towards NGT, with the remaining £77m being paid by Leeds City Council and West Yorkshire Metro over a six year period.
Giving the go ahead to the trolleybus scheme last July, the then transport secretary Justine Greening said the system would generate about 4,000 jobs and boost West Yorkshire's economy.
Once Leeds City Council's outline plans for NGT are submitted to the transport secretary Patrick McLoughlin in September, a 42-day period will follow when anyone can formally support or reject the proposals.
A public inquiry is then expected to be held in spring 2014.
If the trolleybus scheme receives final approval, work is due to start in 2016, with the network operational by 2018.