Kimberley Frank murder: Chances to help Wakefield girl 'missed'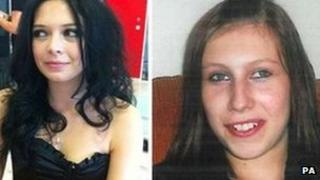 A serious case review into the murder of 17-year-old Kimberley Frank has found agencies "missed opportunities" to protect the Wakefield girl.
Kimberley, who had been in care since 2007, was stabbed to death by Ahmad Otak in front of her sister before he killed her friend Samantha Sykes, 18.
The review also found chances were missed to assess the risk posed by her killer, an Afghan asylum seeker.
However, a number of examples of good practice were identified.
Otak made Elisa Frank, then 19, watch him kill the two teenagers in March 2012 in revenge for her breaking up with him.
Officials said changes to the delivery of services to young people and care leavers have already been made and a detailed action plan had been developed.
The review found there was evidence of good practice from some professionals who were "persistent in attempting to support and guide" Kimberley.
'Disturbing case'
It concluded: "[Kimberley] experienced and remained vulnerable to abuse as a result of sexual exploitation.
"However, her death was not as a direct consequence of this particular vulnerability but as a result of her connection with the abusive relationship between [Otak] and her older sister."
"There were missed opportunities to work with [Otak] and [Elisa] to address their violent relationship."
Edwina Harrison, independent chair of Wakefield and District Safeguarding Children Board said: "Conducting this review has given us the opportunity to look at how support for vulnerable young people could be improved, as Kimberley was receiving help from a range of services.
"We have made recommendations for the agencies involved in this disturbing case and the board will be making sure all the learning is used to improve support services for vulnerable young people."
After Otak murdered Kimberley and Samantha he abducted Elisa and and drove to Dover in a bid to flee the country.
The two teenagers' bodies were discovered at a flat in Barden Way, Wakefield, after Elisa managed to escape from Otak and tip off police.
Following Otak's sentencing Samantha's mother criticised the care system saying it was the family's "strong belief" both Kimberley and Elisa Frank were not provided with the "appropriate level of protection and support".
'Domestic abuse'
Kimberley had been known to specialist safeguarding services since 2007 and was in and out of foster care for several years.
The report said that by 2011 concerns had been raised about her, including her suspected drug and alcohol use and possible sexual exploitation, although she denied this.
Kimberley had also raised concerns about her sister Elisa's welfare due to domestic abuse and threats made by Otak.
Otak had been on the radar of agencies in Wakefield since 2007 when he arrived in the UK from Afghanistan as an asylum seeker.
The review identified "learning for agencies" in areas, including the need to work in partnership to identify risk and to safeguard and protect teenagers, domestic abuse within teenage relationships, and identifying and reducing the risk of sexual exploitation.
It said changes had been made to the provision of mental health services, the allocation of independent accommodation and a child sexual exploitation strategy and action plan had been drawn up.