Mid Yorkshire NHS Trust pay deal stops further strike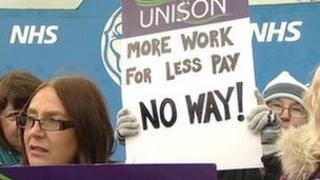 A strike by thousands of hospital staff has been averted after a dispute over proposed pay cuts was resolved.
Administration and clerical workers at hospitals in Wakefield, Dewsbury and Pontefract have staged nine days of walkouts over plans to re-grade jobs.
They voted in favour of taking further action in a ballot last month.
Mid Yorkshire Hospitals NHS Trust, which needs to make cuts of £25m, said it agreed with unions to protect pay for affected staff for up to two years.
The trust had previously said it had to tackle its "underlying financial debt" by reducing the wages bill.
Graham Briggs, the trust's director of human resources, said: "I am delighted that all parties have been able to reach a compromise that gives a longer period of pay protection to allow staff to adjust to the impact of the change, whilst remaining affordable and enabling our service redesign proposals.
"Of particular importance in this agreement is the recognition by both the trust and the trade unions that we need a new working relationship and to work together in partnership going forward."
Jim Bell, regional organiser for the Unison union, said: "The industrial action undertaken by our members has won benefits but we regret that it was necessary in the first place.
"We look forward to forming a partnership arrangement with the trust, but this must be a partnership of equals."