HS2 plan: Wakefield Council leader attacks scheme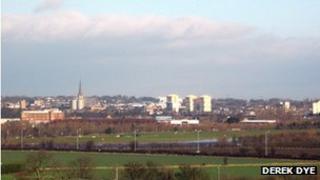 The leader of a council on the HS2 route to Leeds has said the money needed to fund the project could be better spent on other infrastructure.
Wakefield's leader Peter Box said he did not "believe an economic case for HS2 has been made".
A Department for Transport (DfT) spokesman said HS2 would "provide a boost to the Yorkshire economy."
A recent National Audit Office (NAO) report said the economic benefits of the rail project were unclear.
More than 11 miles of the new high-speed line would go through the area, according to the council.
Mr Box said the cost per mile of HS2 has been identified as between £130m and £160m.
Environmental impact
"At a minimum this would be a massive £1.48bn that could, if invested in Wakefield, make a real difference to the district, for example bringing our highways up to scratch and building new infrastructure."
Mr Box added the environmental impact on the region and residents had to be considered.
A DfT spokesman said: "High Speed Two will provide a boost to the Yorkshire economy with thousands of new jobs, increased rail capacity and greatly improved connections between the region and the rest of the country.
"We will work closely with communities and interested parties to find the right balance between delivering essential infrastructure and respecting the rights and concerns of those most affected."
The DfT said a public consultation on the routes north of Birmingham would start later this year, before a decision was taken on where the line would finally run.
The preferred route of phase two running northwards from Birmingham would go to a new station on the south bank of the River Aire in Leeds.
The route is expected to be chosen by the end of 2014 and construction could start in the middle of the next decade, with the line open by 2032-33.
In its report, the NAO said it had "reservations" about how the planned high-speed rail link would deliver growth and jobs.
It added that the project had an estimated £3.3bn funding gap.
The DfT said "it did not recognise" this funding gap.
The HS2 proposal is to be discussed at a future Wakefield Council meeting.