Hepworth Wakefield new exhibition space in former mill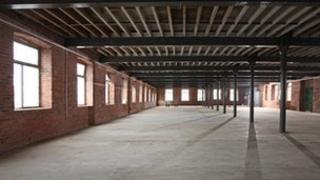 A contemporary sculpture gallery is to open a new exhibition space later in the summer.
The two-year-old Hepworth Wakefield in West Yorkshire has already had 850,000 visits and is to open a former mill on the river Calder waterfront.
The ground floor of Caddies Wainwright Mill would add about 6,500 sq feet (600 sq metres) of space.
The first display in the mill would see work by 2009 Turner Prize nominee, Roger Hiorns, said the gallery.
Simon Wallis, director of the Hepworth, said : "This new development enhances the regeneration of the waterfront by animating these exceptional historic mill buildings."
The £35m Hepworth museum contains work by Wakefield-born sculptor Barbara Hepworth and a series of changing displays of modern art.
Built alongside a weir on the River Calder, the gallery was the centrepiece of Wakefield's £100m regeneration when it opened in 2011.
The news of the extension was announced to coincide with the second anniversary of the gallery's opening.
Wakefield is also home to the 500-acre Yorkshire Sculpture Park, opened in 1977 it attracts about 300,000 visitors a year.
Nearby Leeds also has the Henry Moore Institute.