M62 hard shoulder opens up in West Yorkshire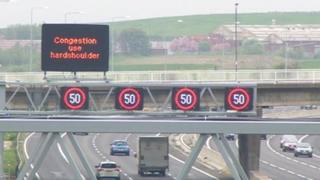 The hard shoulder has been opened up as an extra lane to cut congestion on a stretch of the M62 in West Yorkshire.
The 2.7-mile (4.5km) section, between junctions 27 at Gildersome and 28 at Tingley, is the first section in a "managed motorway" scheme that will eventually cover junctions 25 to 30.
Overhead message signs controlled by the Highways Agency in Wakefield tell drivers when the hard shoulder is open.
The agency said work on the rest of the scheme would be finished by the autumn.
Project manager David Pilsworth said: "It's about looking at the speed and flow of traffic.
"There's an awful lot of counters out there, [who] can then automatically set signs and signals and alert the regional control centre that we need to open the hard shoulder."
About 150,000 vehicles use the stretch of motorway daily,
The agency said the speed limit on the newly-opened section would remain at 50mph while work continued on the rest of the managed motorway, which will stretch from junction 25 at Brighouse to junction 30 at Rothwell.