Nazi uniforms 'not welcome' at Haworth's 1940s Weekend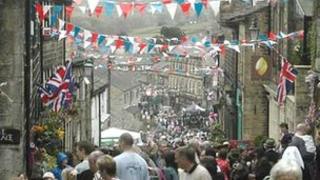 People dressed in uniforms displaying Nazi or SS insignia are being discouraged from attending a 1940s event in West Yorkshire.
The decision has come after a group of German visitors to last year's event in Haworth found such uniforms offensive.
Businesses in the town have been given signs saying Nazi or SS uniforms are "not welcome".
Peter Hill, from the organising committee, said he did not want to cause "unnecessary offence".
However, he said it was impossible for the organisers to ban the uniforms outright as the event took place in a public place and there was no law covering it.
Aircraft flyover
Those people wearing Nazi and SS uniforms in previous years were not trying to make a political point but were "genuine re-enactors", Mr Hill said.
Haworth's 1940s Weekend is an annual World War II-themed event which has been running for 18 years.
About 20,000 people are expected to attend the event, which includes a flyover of World War II aircraft, live music and a special exhibition celebrating the 70th anniversary of the Dambusters.
All proceeds raised from the weekend will be donated to the armed forces charity, the Soldiers, Sailors and Airmen's Families Association.