Leeds events honours hundreds of foster carers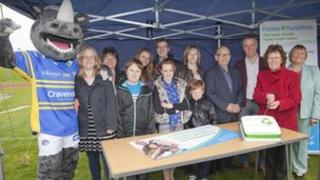 Hundreds of foster carers have been honoured at an event in Leeds.
Foster4Yorkshire invited foster parents from across West Yorkshire to the celebration at the city's John Charles Centre for Sport.
The group, made up of representatives from five local authorities, used the event to highlight the "chronic shortage" of foster carers nationally.
A spokeswoman for Foster4Yorkshire said it was hoped the event would encourage people to take up foster caring.
There are currently more than 2,000 children and young people in foster care across West Yorkshire, an increase of nearly 30% since 2007, said the organisation.
The event was planned to mark the start of national foster care fortnight, which runs from 13 to 26 May.