Savile victim says police report 'a whitewash'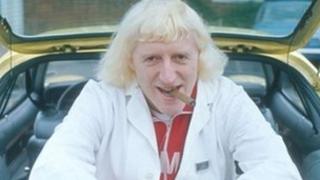 A woman who was abused by Jimmy Savile says a report into his contact with West Yorkshire Police is "a whitewash".
The woman, who cannot be named, said the report did not properly investigate police contacts with Savile.
She said the whole Savile saga was difficult. "He abused me then and he's abusing me now" she said.
A West Yorkshire Police report has found "no evidence" Jimmy Savile was protected from arrest or prosecution by his relationship with the force.
Talking to BBC News the woman, who was at the now defunct Duncroft Approved School in Surrey in the 1970s, said Savile's behaviour was reported to both the school and the police "but no-one believed us".
She said Savile gradually became acquainted with the school and took girls on rides in his Rolls Royce car and to see shows in London.
Of her time at Duncroft, the woman said: "I know there were reports made to police at Staines police station - we just got called liars. Nobody believed us.
"If there had been liaison between police forces it could have been stopped, it should have been stopped, it does make me angry"
She said she was not happy with the findings of the report "because there's nobody to blame, and when they've (the police) been told, there should be somebody to blame."
"It doesn't say anything, it's just a cover-up of what they've investigated. They don't seem to have really investigated anything - a whitewash."
Take responsibility
West Yorkshire Police said there were currently 76 crimes involving 68 victims committed in the West Yorkshire area relating to Savile, but claimed none of these were reported to the force before his death.
The victim called for those who were in positions of authority at both the school and police to stand up and take responsibility for not bringing Savile to justice.
Part of the investigation looked at the disgraced broadcaster's "Friday Morning Club", after reports that officers regularly attended his flat in Leeds while on duty.
She said there was no record from officers who attended Savile's home or of anything discussed at the Friday meetings, "they should have been out investigating something else, they should have been doing their job", she said.
Cigars
"Haven't they got anything better to do? Any crimes to solve?"
The woman said the whole story of Savile's behaviour being brought into the public domain was difficult.
"It brought everything up that happened then, he abused me then and he's abusing me again now".
"There's not going to be any justice for us. You can't try the man, he's dead."
She said there was a reminder of the abuse she suffered: "The smell of cigars, it's a vile smell, cigars.
"He stank of them - the last time I smelled one I was physically sick".