Repairs to Leeds' inner ring road to begin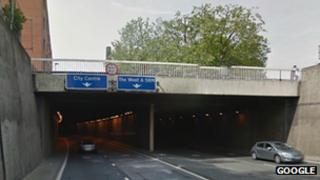 Urgent repairs to a stretch of one of Leeds' busiest roads have been given the green light to begin this summer.
Woodhouse Tunnel will undergo major maintenance and strengthening work as part of a £25m improvement scheme for the city's inner ring road.
Council bosses have said repairs will be carried out predominantly at night but have warned motorists to expect some disruption.
Work will being in late July and is expected to be completed in 2016.
Leeds City Councillor Richard Lewis said plans had been put in place to minimise disruption.
In 2012 a report for Leeds City Council's executive board the tunnel was said to be in a "poor" condition.
Work will be suspended completely when the Tour de France comes to the city in July 2014.
Improvements to the New York Flyover and Lovell Park Bridge have already been carried out as part of the scheme.